Volunteer Vests, 16 Stocked Fabric Colors, MOQ 25 pcs, Logo Printed
Volunteer Vests (or Campaign Vests/Election Vests) have always been a hot item for all sorts of activities such as volunteer work, community service, election events, police guiding traffic or the FBI handling an international criminal case, and so on. It is easily seen at numerous occasions that thousands of people wear the vest with the same name or slogan to support, advocate or sympathize a mutual object or belief, be it a candidate, an organization, or an activity. Although a campaign with thousands of participants seems a good chance of business, this chance might not always be available. What we are aiming at are the chances within our reach.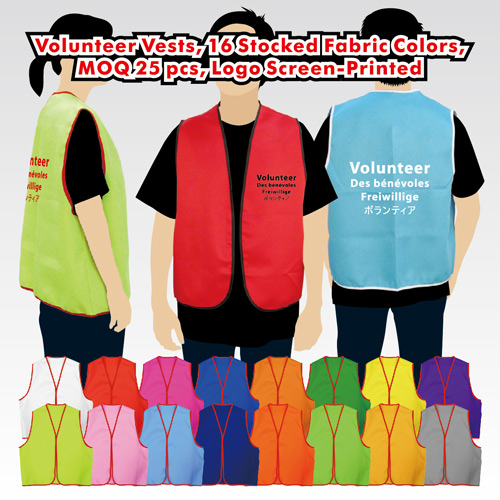 As the network keeps advancing, it is much easier nowadays for people with the same demands to gather along. Some of these groups can be composed of hundreds of people or more, but more of them might just contain a couple dozens. Though small the size, the binding can be very strong. It can be a group of lovers of animals that want to protest against the slaughter of stray dogs, some devotee of nature that want to stop the ruining of environment, or simply some people that want to make their voice be heard by the local government. The count is not much but the demand is clear. This is how we can best apply our advantages: MOQ 25pcs with your own logo/slogan printed. Available in 16 Stocked Fabric Colors.
Again we accept MOQ 25pcs with your own logo/slogan printed. Available in 16 Stocked Fabric Colors.
YP17008 - our collection of Volunteer Vests. We keep stock of 16 fabric colors of vests along with 3 different colors of piping, making a total of 48 combinations for you to choose. The MOQ is 25pcs only and the production time is 5 working days!
Take actions to support the ideas and demands you are for! Please contact your customer service to get more information.
2011-10-29