Multi-Functional Headnecker
is an All-Time Hottest Item!

Yes Promotion has done over 4500 orders in the past five years. Many customers joined us in 2014.
** It takes 2 minutes to do
Membership Request
and order online, order
samples
online, get quotations online, download artwork templates online, etc.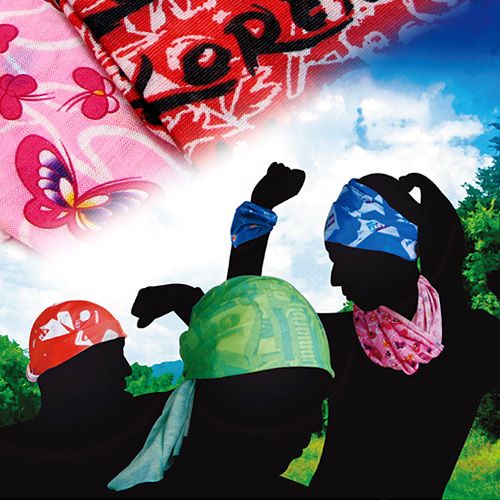 It is a Seamless Bandana made of soft polyester giving comfort touch. It is used as a headband, headwear, neck gaiter, cravat, hairband, scarf, beanie, balaclava, mask, etc. It is for Occasions of Hiking, Skiing, Cycling, Jogging, Dancing, Yoga, Motorcycling, All Sports, Dressing Accessory, etc. It is an item for four seasons.
Orders of the item can be everywhere, and we invite your attention and participation and we propose to be your partners.
Write us
today, and we will discuss how we sponsor your promotion of the Hottest Item!
NO set-up and minimum 50pcs for Yes! In-House production, fast to meet your next event! We can help prepare mock-ups, free spec samples. Join us and be the next to prosper like the numerous success stories happened here.
Take reference of the below patterns and design your own Multi-Functional Headnecker. Right-click a picture to download or write to
info@yespromotion.com
for high-res. and vector artworks.